Radiofrequency Microneedling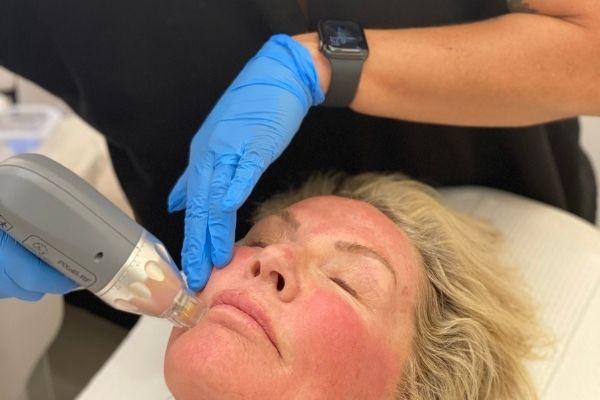 Radiofrequency Microneedling is a state of the art treatment for restoring smooth texture and a youthful tightness to skin. As with traditional microneedling, a device is used to create micro-wounds which stimulate the body's natural healing process and trigger the production of collagen and elastin. What makes Radiofrequency Microneedling so unique and powerful is that the micro-injuries become channels for radiofrequency heat to enter the skin. The targeted delivery of radiofrequency energy into the dermis amplifies production of collagen and elastin (on top of what microneedling alone can do). Radiofrequency energy also heats the deeper layers of skin, enhancing skin tightening, and leading to refined structure at the surface.
When compared to treatments that may have similar results, Radiofrequency Microneedling tends to be the most minimally invasive with the least downtime. Only 24 hours of redness, sensitivity, and light swelling.
How It Works
Radiofrequency Microneedling utilizes needles similar to a traditional device, but in this case the needles are a delivery service for radiofrequency waves (the real magic of this treatment). If your goals have to do with more superficial concerns (fine lines, wrinkles, uneven skin tone) regular microneedling may do the job. If instead your goals are deeper in the skin (tightening, contouring, healing) Radiofrequency Microneedling will likely be the more effective option.
Radiofrequency waves have been scientifically proven to increase production of both collagen and elastin. With collagen resurfacing fine lines, wrinkles, and scars, elastin dramatically tightening the skin, and radiofrequency waves creating a soft glow at the surface, this treatment is truly a powerhouse.
This can be used as an effective treatment for:
Fine lines and wrinkles
Acne scarring
Stretch marks
Appearance of large pores
Loose and sagging skin
Scars from injury or surgery
What To Expect
The results of Radiofrequency Microneedling are amazing, but one of the best parts of this treatment is the minimal downtime. Previous to the treatment beginning, we will use our special topical numbing technique to ensure the process is comfortable. The actual treatment will last roughly 45 minutes depending on the area being treated. As the device makes micro-wounds in the skin, radiofrequency waves enter to do their work. This will cause a sunburn like heat sensation that is very tolerable.
After-treatment care is one of the most important factors in having results you love. Expect the skin to be slightly sensitive and red with possible light swelling for the first 24 hours. A lineup of clean skincare products will be recommended to keep the skin protected and healing in the days following your treatment. Normal activity can be immediately resumed although we recommend planning this treatment at least a week before any major events, and taking 24 hours off of sweaty exercise.
Exact results will vary by individual. For optimal results, a series of treatments may be necessary. Visible changes can be seen 2-6 months after treatment, during which time collagen production increases to firm and tighten the skin. These results can last up to a year with recommended maintenance treatments at least once a year.
Pricing?
Face $750
Neck or Chest Add-On $150/each for single sessions
Body Areas $500+

A series of 3-6 treatments may be recommended for optimal results.
Package Pricing: Series of 3 treatments for Face and Neck $2300 (Savings of $400)
10% off with Perfect Vault Membership
Coming in for treatment or have more questions? See Radiofrequency Microneedling Pre and Post Treatment information.
Not ready to book yet? Check out our gallery of Before & After results here.