Vampire Facial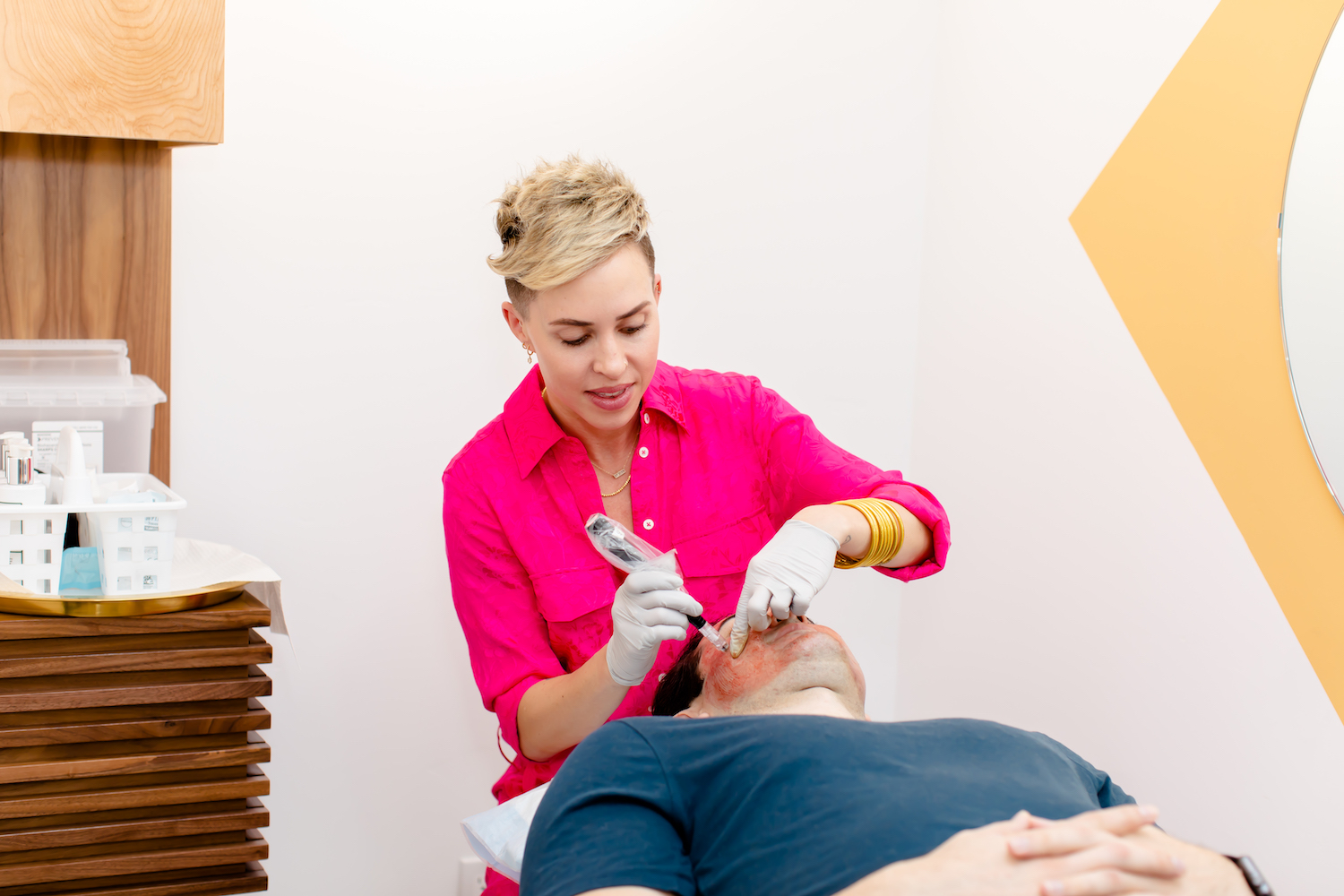 The Vampire Facial is a PRP (platelet-rich plasma) treatment that is combined with microneedling. The treatment stimulates tissue healing and repair, which can address a variety of skin concerns, including scarring, aging, fine lines, pore size and sun damage. Combining the benefits of PRP with those of microneedling increases collagen production and new tissue growth, resulting in more glowing and tighter skin.
How It Works
A microneedling device is used to create micro-punctures in the skin. This step alone stimulates healing, resulting in smoother, tighter, more evenly toned skin. In a Vampire Facial, the microneedling is then followed by the application of PRP, supplying the skin with growth factors for optimal healing and treatment results.
What To Expect
Vampire Facial appointments begin with a standard blood draw from the client's arm. This tube of blood will be transferred to a centrifuge, where it will be spun to separate the red blood cells from the plasma. The bottom layer of the plasma contains a high concentration of platelets, which are then drawn off for injection.
After applying a numbing cream to the face, we use a microneedling device to create micro-injuries in the face. This triggers a strong healing response from the skin and results in increased collagen production and tighter, rejuvenated skin. Finally, the treatment concludes with painting the growth factors onto the micro-punctures, so that the growth factors contained within the PRP soak into the facial tissue for further stimulation, tightening and skin rejuvenation.
Since the application of PRP amplifies the skin's healing ability, downtime for a Vampire Facial is much less than microneedling alone. However, due to the thousands of micro-channels that are created during the treatment, the skin is still extremely vulnerable to the application of topical cleansers, creams, serums and makeup following the Vampire Facial. A post-treatment skincare regimen will be recommended following the treatment to help expedite the healing process and minimize the risk of negative side effects. Excessive sun exposure should be avoided for the first 72 hours, and you should refrain from any sweaty exercise for the first 12 hours following the treatment.
Multiple treatments are needed for optimal results.
Pricing?
Vampire Microneedling Face $950, Neck or Chest Add-on $50/each
A series of treatments may be recommended for best results.
Package pricing: Vampire Microneedling Face Series of 3 treatments $2550
10% off with Perfect Vault Membership
Coming in for a treatment or have more questions? See Vampire Facial Pre and Post Treatment Information. 
Not ready to book yet? Check out our gallery of Before & After results here.