Thread Lift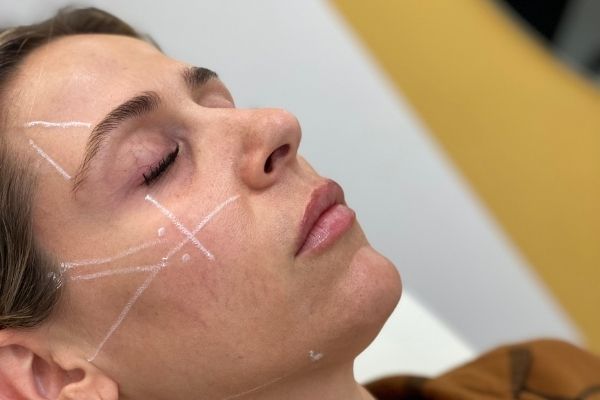 PDO Thread Lift is a minimally invasive treatment done out of our San Diego office that can provide an instant facial lift with minimal downtime. Rather than surgically removing and lifting skin into place, Polydioxanone (PDO) threads are artfully placed beneath the skin to help minimize wrinkles and folds and to naturally restore youthful proportions. These dissolvable threads stimulate cell growth and collagen production which will help to support the thread lift and create lasting results for months to come.
How PDO Thread Lifts Work
PDO Thread Lifts are designed to fit your goals and compliment your perfect, which is just the way we roll at La Jolla-based PFAM. We completely customize the experience for your desired lift, unique skin type, and rejuvenation needs. Once the threads are in place, the skin will already be noticeably lifted. As the absorbable polymer of the threads dissolves over a period of 6-9 months, they will continue to contour and lift as a result of your body's own collagen stimulation response. This helps to restore and rejuvenate youthful proportions and appearance of the face and neck that can last 1-2 years.
PDO Thread Lifts are a great way to smooth wrinkles and lift sagging skin around:
Eyebrows
Under eyes
Cheeks
Laugh Lines/Nasolabial Folds
Mouth
Jawline
Jowls
Neck
Lips
What To Expect From Thread Lifts in San Diego
Be prepared to look and feel amazing without prolonged downtime or discomfort. We use a special numbing technique to ensure your comfort during the treatment. Inserting and anchoring the threads in place will take about 45 minutes, during which time you may feel light pressure and tightening of the skin. Following the treatment, only a couple days of dedicated downtime may be needed. Here are just a few things to be aware of when considering timing of your thread lift:
Avoid touching, washing or wetting the face for the first 12 hours post-procedure. Basic skincare can be resumed 48 hours after the procedure, but continue to exclude any type of scrubbing, exfoliating, or tugging.
Makeup should not be worn for at least 48 hours post-procedure or until the thread entry points close.
Sleep on your back to minimize facial pressure.
Be mindful of activity levels. Light movement is fine, but anything that requires lots of exertion, causes blood pressure to be elevated, or strains facial muscles should be avoided for at least a week to 10 days.
Facial massages and facials should be avoided for at least 1 month.
No dental work for at least 2 weeks before and 2 weeks following treatment.
If you have the COVID vaccine planned, make sure it is spaced at least 2 weeks away from your thread lift.
Pricing?
Pricing will be discussed during your Thread Lift Consultation. 
10% off with Perfect Vault Membership
Coming in for a treatment or have more questions? See our PDO Thread Lift Pre and Post Treatment information.
Not ready to book yet?