Melasma Treatments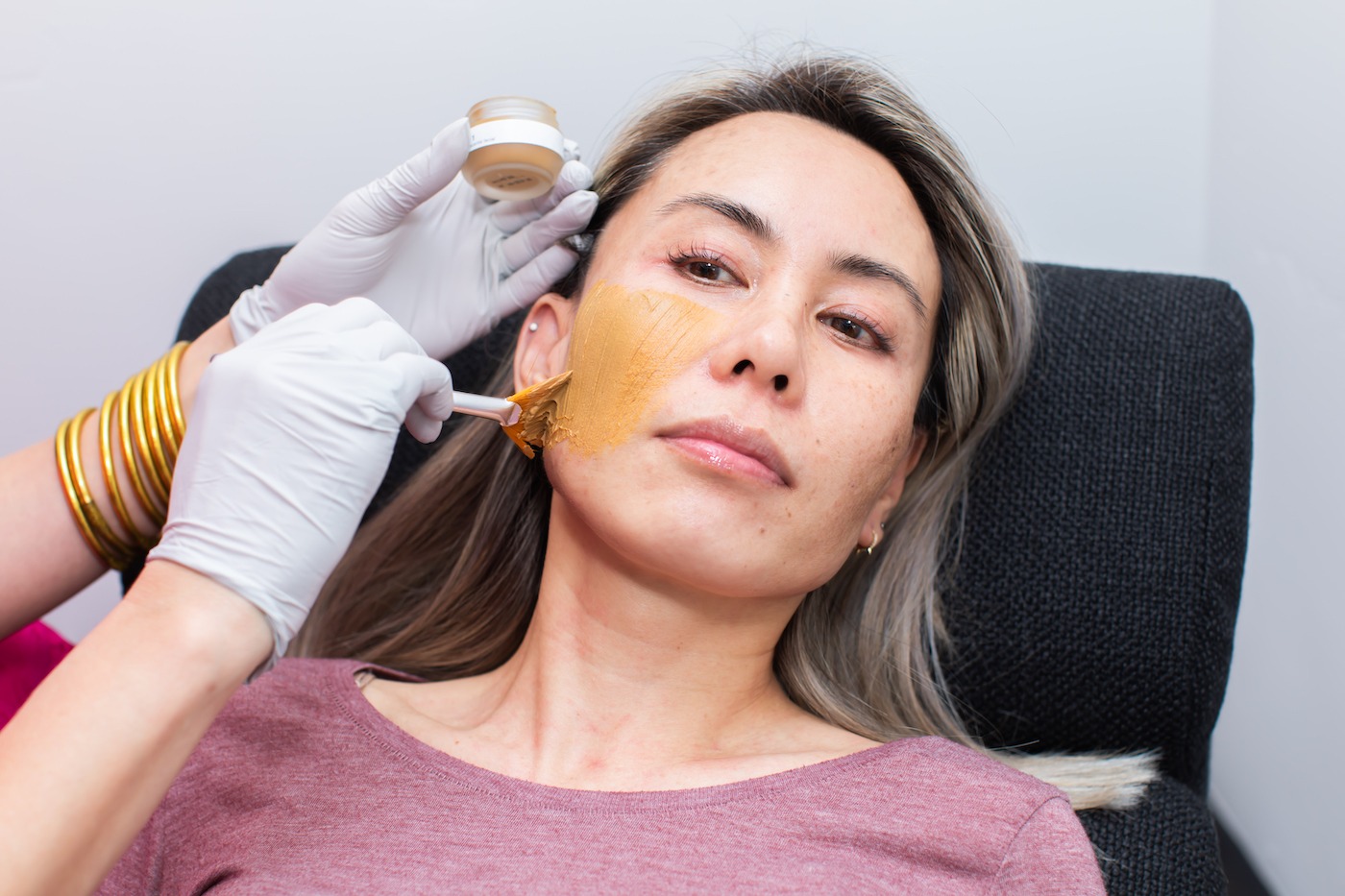 Take a look at these Cosmelan before and after treatment photos from a few of our PFAM clients.
The American Academy of Dermatology defines melasma as a pigmentary condition that causes gray-brown patches, usually on the cheeks, bridge of the nose, forehead, chin and above the upper lip. Melasma can also appear on other parts of the body that are exposed to the sun, like the forearms and neck. Melasma may also be induced by hormonal fluctuations, family history, endocrine illness, birth control/contraceptives, pregnancy and aging. According to the Dermal Institute, melasma affects more than five million Americans - 90% of them being women. This condition does not cause symptoms you can feel, but it changes the way your skin looks, and it can greatly impact the way you feel about yourself.
Skin discoloration or hyperpigmentation, can also result from sun exposure, aging, hormonal fluctuations due to pregnancy or menopause and trauma to the skin as a result of acne.
The Cosmelan MD Depigmentation Peel and Melanostop Depigmentation Peel are industry-leading treatments developed to tackle this condition in a noninvasive manner.
COSMELAN MD DEPIGMENTATION PEEL
What is a Cosmelan MD Depigmentation Peel?
Cosmelan MD is a depigmentation treatment based on the inhibition of tyrosinase, a basic enzyme in the melanin formation process. The treatment has a light peeling effect that ultimately eliminates melanin patches on the face resulting from melasma. The end result is a refined skin texture and tone.
What are the benefits of a Cosmelan MD Depigmentation Peel?
This treatment is not only safe, but very effective in treating all types of melasma and is compatible with all skin types. The treatment can be used year round and offers a very rapid and easy depigmentation action with a light peeling effect that rejuvenates the skin. The Cosmelan treatment originates from Spain and is very effective on ethnic skin, which is rare among the majority of treatments geared towards skin lightening.
What does the Cosmelan MD Depigmentation Peel entail?
This treatment consists of two parts. It is imperative that a strict adherence to both phases of Cosmelan are strictly followed in order to achieve complete success. This treatment can be applied at home (and shipped anywhere in the U.S.) and is one of our #stayhome treatments offered with a virtual consult. First, the skin is cleansed and the Cosmelan 1 'leave on mask' is applied, with special attention to areas most affected by hyperpigmentation. This mask will be left on for a total of 5-10 hours depending on your skin type. You will have specific instructions and products for removing the mask and caring for your skin afterward. The wearing of the mask is a key component in stimulating the fastest response from the Cosmelan.
The second stage is home maintenance. You will apply the Cosmelan 2 cream three times a day for the first month after the application of the mask, then twice a day for weeks 4-8, and once a day application for weeks 9-12. As part of your treatment, you will also be provided Melan Recovery Cream to use as a daily moisturizer which provides the necessary hydration and nutrition for the skin. Although Cosmelan 2 does contain physical filters to protect you from the sun, it should be used together with the Melan 130 Mesoprotech Complete Sunblock to provide maximum protection from UV rays and to prevent rebound pigmentation. All of these products are included in the Cosmelan MD kit.
What type of results are seen with this treatment?
In most cases, the disappearance of blemishes improves by 95%. Typically within two weeks after starting the Cosmelan MD peel, a noticeable significant improvement of the skin is already observed. At the end of the three month protocol, many blemishes may disappear altogether.
Will I need a series of treatments?
Many clients will only require one application of the peel. It is not uncommon though to need to repeat this process. It is hard to predict if you will need to repeat the Cosmelan to maintain your results since melasma is quite unpredictable and does require constant vigilance at. A maintenance program of either Cosmelan 2 cream or other active ingredients may be recommended in order to maintain your results. What is the length of this treatment? This treatment takes place over the course of three months. The treatment must not be interrupted during this time period unless advised by your provider. No. additional products other than what is contained within the Cosmelan MD kit should be used while following the home care protocol.
Can the Cosmelan MD Depigmentation Peel be combined with other treatments or skincare products?
Cosmelan MD should be performed on its own, and no other active topical skincare products should be used during the three month protocol.
Does the Cosmelan MD Depigmentation Peel require anesthesia?
No, Cosmelan MD does not require anesthesia. Application is not painful. There may be a slight warmth and tingling sensation once the peel is removed.
Is there any downtime with the Cosmelan MD Depigmentation Peel?
Cosmelan MD does have associated downtime, mostly within the first two weeks after application of the leave on mask. Downtime may include but is not limited to the following: sensitivity, redness, peeling, and slight swelling.
Can I get this treatment while pregnant?
You may NOT receive the Cosmelan MD Depigmentation Peel if you are a pregnant or nursing woman.
What are the ingredients of the Cosmelan MD Depigmentation Peel?
Cosmelan 1: Azelaic acid, Kojic acid, Ascorbic Acid, Arbutin Titanium Dioxide and prescription strength hydroquinone and retinoic acid.
Cosmelan 2: Titanium Dioxide, Kojic Acid, Phytic Acid, Ascorbic Acid, prescription hydroquinone.
Is there anything else I should know?
Your skin may turn red and flake during the first week or two of treatment. If your skin is very sensitive, you may also experience an itching feeling. Melan Recovery cream can be used liberally and as necessary to relieve these symptoms. By day 7-10 of the treatment, your skin will likely appear healthy and luminous again.
The 3 month program is $900 and includes the Cosmelan 1 leave on mask, Cosmelan 2 cream, Melan Recovery Cream and Melan130 Mesoprotech Complete Sunblock. If replenishments of these products are required, please reach out to the office or your provider.
Learn more from our full blog, All Things Cosmelan.
Coming in for a treatment or have more questions? See the Cosmelan pre- and post-care protocol for home care.
MELANOSTOP DEPIGMENTATION SYSTEM
What is the Melanostop Depigmentation System?
The Melanostop Depigmentation Package is a minimally invasive add-on to microneedling. This treatment uses tranexamic acid both topically and transcutaneously to attack pigment from multiple pathways. This solution reduces the excessive vascularization that characterizes melasma, acts on the inflammatory process that occurs after acne and scarring and regulates the production of tyrosinase, which helps form melanin. The end result is the reduction and elimination of hyperpigmentation resulting from melasma.
What is tranexamic acid?
This highly effective ingredient treats melasma and pigmentation issues by inhibiting tyrosinase and controlling melanocyte proliferation, along with decreasing the inflammatory component of melasma and reducing the excessive vascularization of the condition. In a 2018 study from the American Society for Dermatologic Surgery, Inc., tranexamic acid was deemed the most effective ingredient for treating melasma.
It is used in this treatment at several depths of the skin.
What are the benefits of this treatment?
This innovative treatment combines different methods to target hyperpigmentation at different levels of the epidermis to thoroughly counteract melasma's effects.
What does the Melanostop Depigmentation System entail?
We will begin this treatment by numbing the face and applying the melanostop peel, which acts on the visible pigmentation on the upper layers of the skin. The Depigmentation solution is then microneedled into the skin to reach lower layers of the skin.
What ingredients are included in the Depigmentation solution?
This solution is a powerful blend of tranexamic acid, Vitamin C, idebenone, and NAG (n-acetyl glucosamine). It is a transcutaneous solution that acts to regulate melanin production and remove the melanin present in epidermal cells, responsible for visible pigmentation. It contains antioxidant agents that regulate melanin overproduction as well.
What is the length of this treatment?
The treatment takes around 45 minutes. A series of treatments (spaced two-four weeks between) is recommended. After three treatments, we will assess for further sessions.
Can Melanostop Depigmentation be combined with other treatments?
This treatment is combined with microneedling which enhances cell renewal and induces the synthesis of new collagen as well.
Is this treatment painful?
We will numb the face so little to no pain is felt during the course of the treatment.
Is there anything else I should know?
A series of at least three treatments is recommended. A consultation is always a good place to start so that your provider can create a customized treatment plan for you.
Pricing?
Cosmelan MD Depigmentation Peel $900
10% off with Perfect Vault Membership
Schedule a complimentary consultation with our medically trained staff to discuss best treatment options for your skin.
Not ready to book yet? Check out our gallery of Before & After results here.