Filler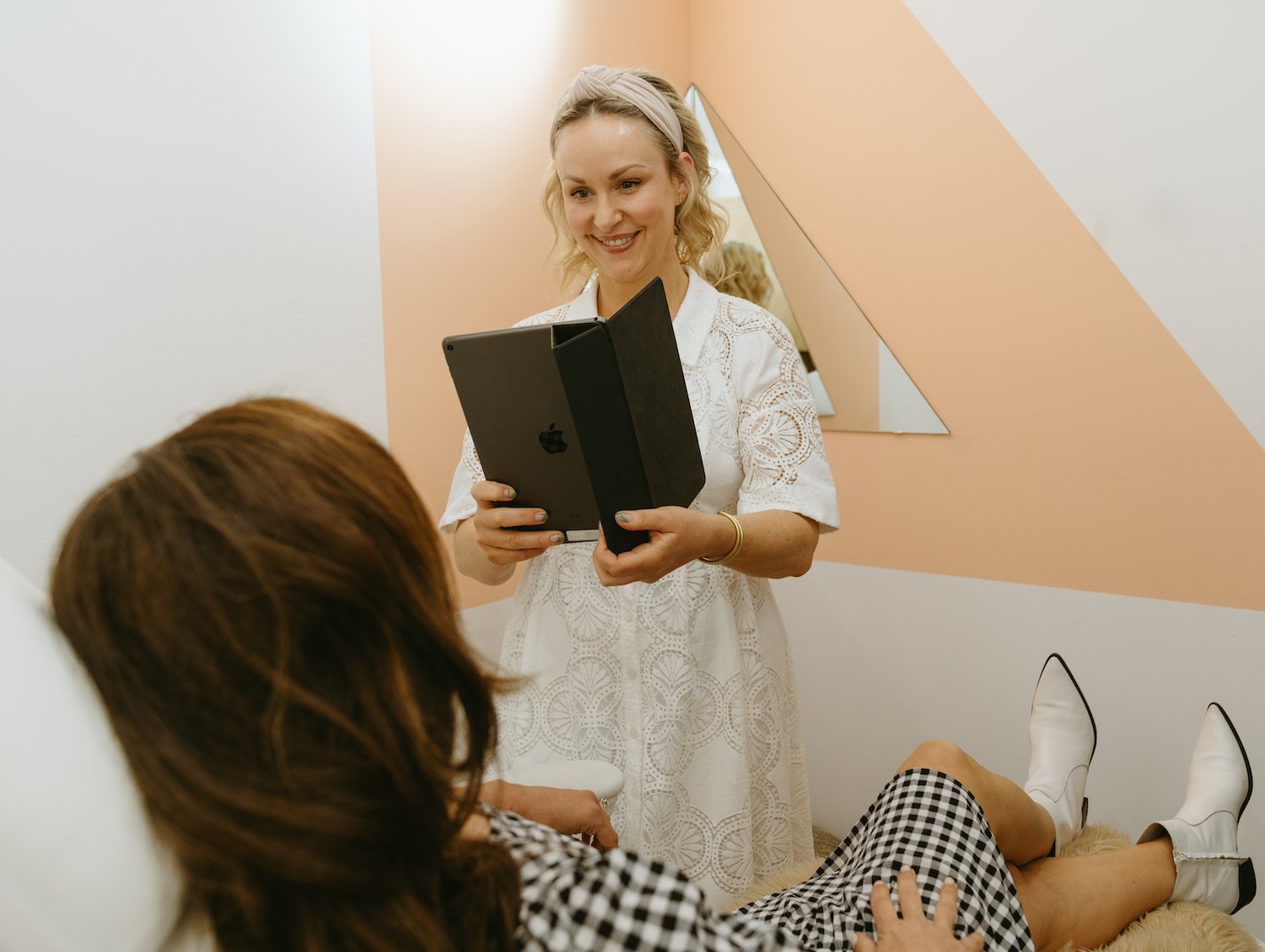 Using hyaluronic acid, a substance your body produces naturally, dermal fillers such as Juvederm and Restylane can be used in a myriad of ways in the face and neck. From softening wrinkles and folds, adding hydration to lips, and restoring lost volume in the face to create a more youthful-looking and natural-feeling transformation fillers really can do it all.  
Immediate, natural and long lasting results can be achieved in these areas:
Lips
Cheeks
Nasolabial Folds
Under eyes
Smile lines
Forehead and "11" lines
What are some common reasons for getting filler?
While most people think the cause of facial aging is only due to the loss of elasticity and collagen in the skin, there are actually three key reasons for facial aging: volume, typically in the form of superficial and deep fat loss (about a teaspoon per year), bone loss, and changes in the quality of the skin.

When it comes to filler, we must address the changes in the deep and superficial fat pads, as well as actual bone structure that supports your face. According to medical literature, the failure to address the multifaceted changes in both the skeletal foundation and shape of the face could limit the potential benefit of any rejuvenation treatment.
Lips - Throughout time, our lips lose collagen, become thinner, less defined borders with more lines and a dehydrated look. Lip fillers can restore definition, hydration, youthfulness, as well as volume and structure if desired. Fuller lips can exude youth and beauty.

Cheeks - As we age the face becomes more oblong and cheeks flatten. We lose contour and height of the cheek. This leads to tired and drawn appearing eyes with loss of the beautiful curves we often have in youth. With strategic filler placement, we can not only add youthful contours back to the face but more importantly we replace that support that is lost in the midface with age. More support in the midface often leads to less of a downward trend and sagging of the lower face.

Nasolabial Folds (Smile lines) - These are folds that can appear  in your skin extending from both sides of your nose to the corners of your mouth. They're also called smile lines or laugh lines. Nasolabial folds can become more prominent and permanent as we age, due to the loss of support in the midface and the ensuing collapse that occurs.

Under eyes - Some people have a naturally sunken under eye area and well placed filler here can improve the look of dark circles and/or sunken tired appearing eyes.

Chin - Chin filler can improve a double chin, balance a larger nose, minimize jowls and beautify the jawline and profile.

Jawline - We all lose some bone as we age, and as our jawbone shrinks, we start to notice jowls and saggy necks with lack of definition and structure.. Similar to chin filler, treatment of the jawline can  improve the profile, minimize jowls  and can even be effective in improving a double chin.

Temple - With age the temple tends to get depleted and scooped out. The brows also begin to droop. We look to support this temporal area with filler to not only restore a more youthful and healthy shape to the face, but also to support the brow, the under eye, even the cheek and jawline.
I've seen photos of celebrities not looking natural after having fillers. How can you assure me I will look balanced and natural?
I recently heard this concept of 'anti-aging filler' versus 'augmentation filler'. Anti-aging filler is defined as strategically placed amounts and locations of filler to restore the supporting structures of the face that have been lost over time, creating beautiful facial balancing results. Whereas, filler used to "augment" is more about adding volume to the face in areas where we never really had it to begin with.

The difference between Augmentation and Balancing may sound like semantics, but the outcomes are anything but. Take a look at a filler client who was treated with too much of only one type of filler placed all over, for example, and I bet the first words that will come to mind are "overdone and unnatural." What we aim for when using fillers is a distinct, balanced, almost unnoticeable result.
What to expect
After assessing your unique features, elements of facial balancing, and skin goals, PFAM providers will help you choose the most appropriate treatment approach in order to achieve your desired look and enhance your natural beauty. Specialized topical numbing cream can be used pre-treatment to ensure your comfort during injection.Pro-Nox (i.e. 'giggle gas') is available for those feeling more anxious and concerned about discomfort. Length of treatment is dependent on the areas being injected.
How long will it take for me to see results after I get fillers?
Results can be seen immediately, but there may be minor swelling. That will subside after a few days and as the filler settles and integrates seamlessly with your natural tissues,  you will be able to see your final results after 2-3 weeks.
What will I look like after my filler treatment? Is there any downtime?



Slight redness at the injection site and minor swelling can occur after filler treatment. There is a risk of bruising as well. In most cases, you can resume most activities right away, but it is generally recommended that you avoid intense physical activity for the first 24-48 hours to minimize swelling and bruising. Our general recommendation is to schedule your filler appointment approximately 2 weeks from any important social obligations. 
What do I need to know before and after my treatment? 
Filler Pre and Post Treatment information.
How long do fillers last?
Filler results can last up to years, and it depends on which type of filler is being used along with which part of the face the fillers are placed. For instance, fillers placed in areas where there isn't much movement, such as the midface,  tend to last longer than filler in the lips or around the mouth, which is constantly moving.
How much does filler treatment cost?
$500-950 per syringe depending on type
(5 syringes = 1 teaspoon)

Perfect Vault members can use their 10% off discount (Packages excluded).

Packages for filler are available. They provide the best value on multi-syringe treatments and include:

Tier 1 Package: $1600
Good for someone needing correction of a single area
Tier 1 Jawline Package: $1700
Good for someone needing mild correction/enhancement of the jawline
Tier 2 Package $2250
Good for someone needing mild correction of 1-2 areas or more significant correction of a single area
Tier 3 Package $2900
Good for someone looking for more global correction of 3 or more areas or requiring more significant correction of 1-2 areas.


Coming in for a treatment or have more questions? See Filler Pre and Post Treatment information.
Not ready to book yet? Check out our gallery of Before & After results here.