Wrinkle Relaxers (Botox, Xeomin, Jeuveau, Dysport) in San Diego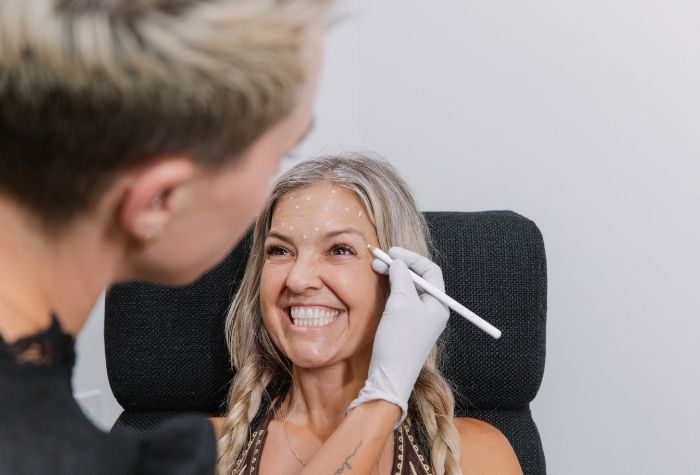 Wrinkle relaxers encompass a collection of 4 similar botulinum toxins: Botox, Xeomin, Jeuveau, and Dysport. Each of these products provides a quick and simple way to relax the muscles that cause wrinkles in the face and neck, leaving your skin looking smoother and younger. The treatment in our San Diego office takes less than 15 minutes and has no down time.
Using needles no larger than acupuncture needles, injections are performed in the target muscles. The softening of muscle strength helps to treat dynamic wrinkles and prevent static wrinkles from ever forming. At San Diego-based PFAM we'll help you choose the right product between Botox, Xeomin, Jeuveau, and Dysport to create a treatment plan to reveal your desired look and inner perfect.
A few injections can soften the appearance of crow's feet, brow furrows, forehead and perioral lines, and even tighten the appearance of the neck. Wrinkle relaxers can also be used in the masseter muscle to help relieve TMJ pain, grinding and cause facial slimming.
Botox can also be used to treat Hyperhidrosis, which is a condition that results in excessive perspiration. Whether its excessive facial sweating, palms, soles, or underarms this treatment can dramatically reduce moisture for up to a year.
Pricing?
Botox $15/unit
Xeomin $14/unit
Dysport $6/unit
20% off with Perfect Vault Membership
For more information, see BOTOX® Cosmetic full Prescribing Information, including Boxed Warning and Medication Guide.
Coming in for a treatment or have more questions? See Wrinkle Relaxer Pre and Post Treatment Information.
Not ready to book yet?