Sculptra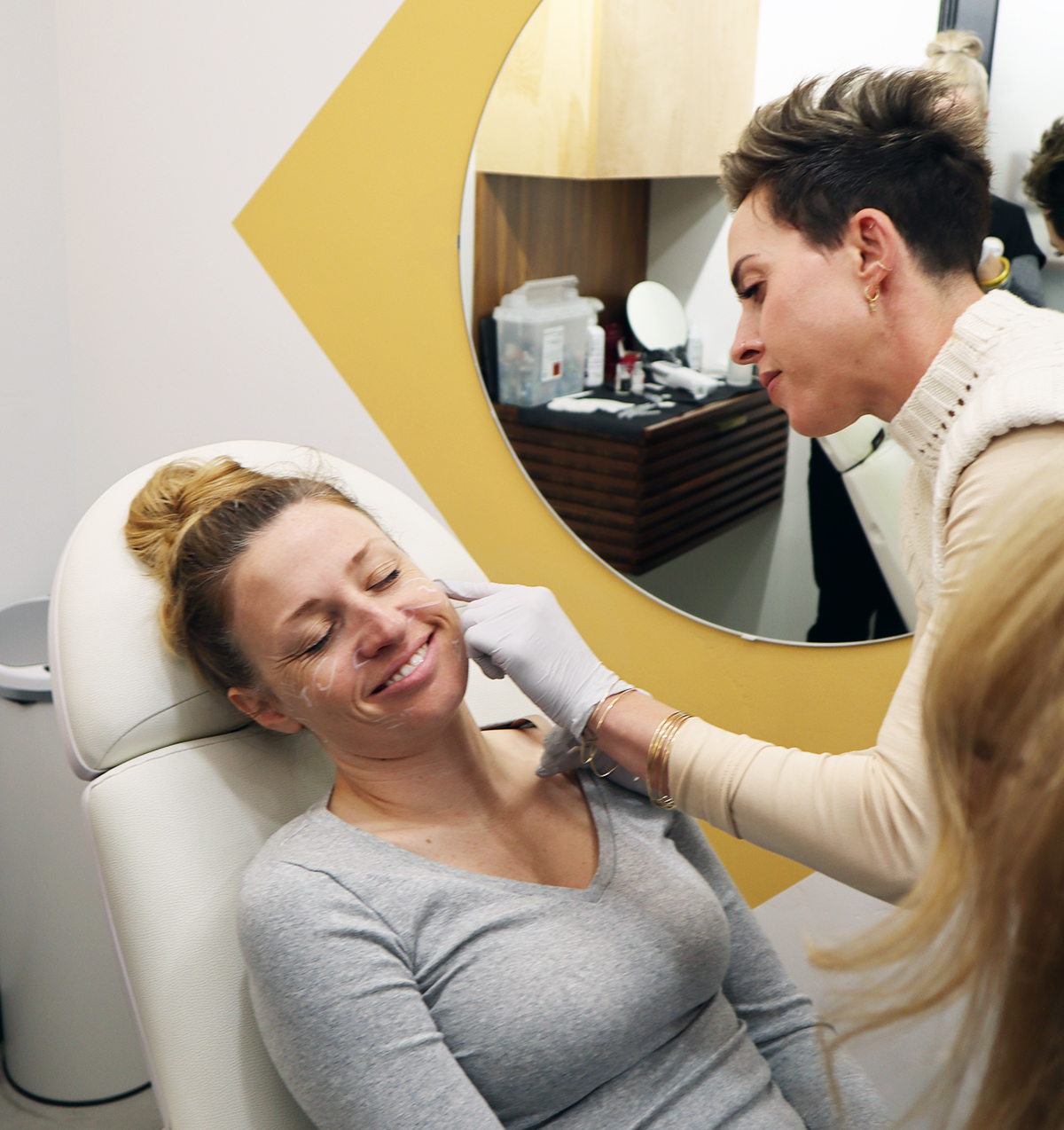 Imagine looking in the mirror and seeing a reflection of yourself that looks 5-10 years younger. The supple voluminous skin of 'before' is made possible with Sculptra. Sculptra has been FDA approved since the early 2000's. It has gained incredible popularity for the same reasons we are loving this exciting injectable treatment:
It stimulates collagen growth, an essential component of healthy, supple skin. Unlike hyaluronic acid gel fillers that work to mainly fill lines, Sculptra works to increase collagen and restore the skin's foundation, resulting in tightening, firming, and overall noticeable improvement of wrinkles and skin quality.

It allows us to restore volume

and

contour, allowing customizable results that look youthful and balanced.

Natural long-lasting results. Because the results appear over a period of months, as the collagen begins doing its job, the end result is undeniably noticeable but completely natural.

Little downtime. Because it's non-invasive, Sculptra allows you to go back to normal with virtually no downtime.
Sculptra is an injectable collagen biostimulator. It is made of a biocompatible synthetic substance called Poly-L-Lactic Acid (PLLA). It gradually helps to increase natural collagen leading to restored facial volume and fullness over time. Facial folds and wrinkles are improved, as is the quality of the skin. 94% of clients treated with Sculptra agree that their results still looked natural 2 years after their last treatment.

The Sculptra process generally requires 2-4 sessions (separated 6 weeks apart) over the course of a few months. The number of vials used at each session will vary and depends upon the extent of collagen and volume loss. Results can be seen as soon as one month, but generally are most visible 2-3 months later with sustained improvements 6 to 24 months later. Sculptra will have you looking in the mirror seeing yourself 5-10 years younger!
What are some common reasons for getting Sculptra?
Loss of facial volume (can be due to weight loss, medication, or natural aging process)

Crepey, sagging skin/decreased skin elasticity

Nasolabial folds and smile accordion lines
What is Sculptra exactly and how does it work?
According to the Sculptra Patient Brochure, SCULPTRA is a sterile, injectable, biocompatible, biodegradable material that is made of very small particles of a synthetic polymer named "poly-L-lactic acid" (PLLA).

Collagen production in the body decreases as you get older and/or are exposed to the sun. Wrinkles are one of the first visible signs of this. SCULPTRA is injected into the deep layer of the skin where collagen naturally exists and is made. SCULPTRA works by initially filling a wrinkle with small PLLA beads. As the beads biodegrade the body may produce new collagen where SCULPTRA is injected. SCULPTRA is injected with multiple small injections using a fine needle to correct nasolabial fold contour deficiencies, other facial wrinkles or fine lines and wrinkles in the cheek region.

Sculptra® (injectable poly-L-lactic acid (PLLA-SCA) is indicated for use in people with healthy immune systems for the correction of shallow to deep nasolabial fold contour deficiencies, fine lines and wrinkles in the cheek region, and other facial wrinkles.

Sculptra should not be used by people that are allergic to any ingredient of the product or have a history of keloid formation or hypertrophic scarring. Safety has not been established in patients who are pregnant, lactating, breastfeeding, or under 18 years of age.
How is Sculptra different from filler?
Filler is a general term used to describe specific hyaluronic acid gel products, such as Juvederm and Restylane. Fillers are used to soften wrinkles and folds, and sometimes replace lost volume. Results appear immediately and can last up to approximately 1 year.

Sculptra is an FDA-approved injectable collagen biostimulator that helps to restore the deep underlying structure and volume of the skin. Results appear gradually over time with multiple treatments, and can last approximately 2 years.
What to expect during your appointment
After assessing your unique features, elements of facial balancing, and skin goals, PFAM providers will help you choose the most appropriate treatment approach in order to achieve your desired look and enhance your natural beauty. Sculptra can be used in conjunction with dermal fillers and PDO threads for total facial restoration and rejuvenation. Length of treatment is dependent on the areas being treated.
Does Sculptra hurt?
Most people find a Sculptra treatment to be very tolerable due to the inclusion of numbing medicine used during the treatment. Pro-Nox (i.e. 'giggle gas') is available for those feeling more anxious and concerned about discomfort.
How many sessions will I need?
Multiple sessions are required for the best results and are typically separated about 6 weeks apart. On average, 2-4 sessions are needed depending on the extent of collagen and volume loss.
How many vials of Sculptra will I need?
The number of vials used at each session depends on the extent of collagen and volume loss in the face. In general, it can be anywhere from 1-4 vials per session.
How long will it take for me to see results after I get Sculptra?
Visible improvement will follow the final treatment within 2-4 months.
How long does Sculptra last?
94% of clients treated with Sculptra agree that their results still looked natural 2 years after their last treatment. 
What will I look like after my Sculptra treatment? Is there any downtime?
Sculptra is administered as an injection, therefore there is a risk of bruising. There is slight swelling that occurs immediately after the treatment and can last 2-3 days. Most people actually really like the way they look immediately after. However, that swelling goes down and then the body goes to work producing its own collagen, slowly re-establishing the volume that has been lost over time.

Is this is a safe injectable?
Sculptra was given FDA approval in 2009 and has been widely and safely used ever since.
Can Sculptra be combined with other services?
Absolutely. Sculptra can be part of a comprehensive rejuvenation plan and is often combined with fillers, botox, PDO threads and microneedling. Your provider can help you determine where Sculptra fits in your rejuvenation plan in order to provide you with the most natural and long-lasting results.
Should I be worried about an allergic reaction?
No. Sculptra contains PLLA (Poly-L-Lactic Acid) which is a synthetic material used in dissolvable sutures. There is no risk of an allergic reaction and no allergy testing is required. Once the PLLA jump starts collagen production, it is naturally broken down by the body over time.
What do I need to know before and after my treatment?
Sculptra Pre and Post Treatment information.
How much does Sculptra cost? 
Sculptra is $850 per vial.
Perfect Vault Members may use their 10% off discount (packages excluded)

Packages of Sculptra are available and include:
2 Vials $1600
3 Vials $2250
4 Vials $2900
Coming in for a treatment or have more questions? See Sculptra Pre and Post Treatment information.