Microneedling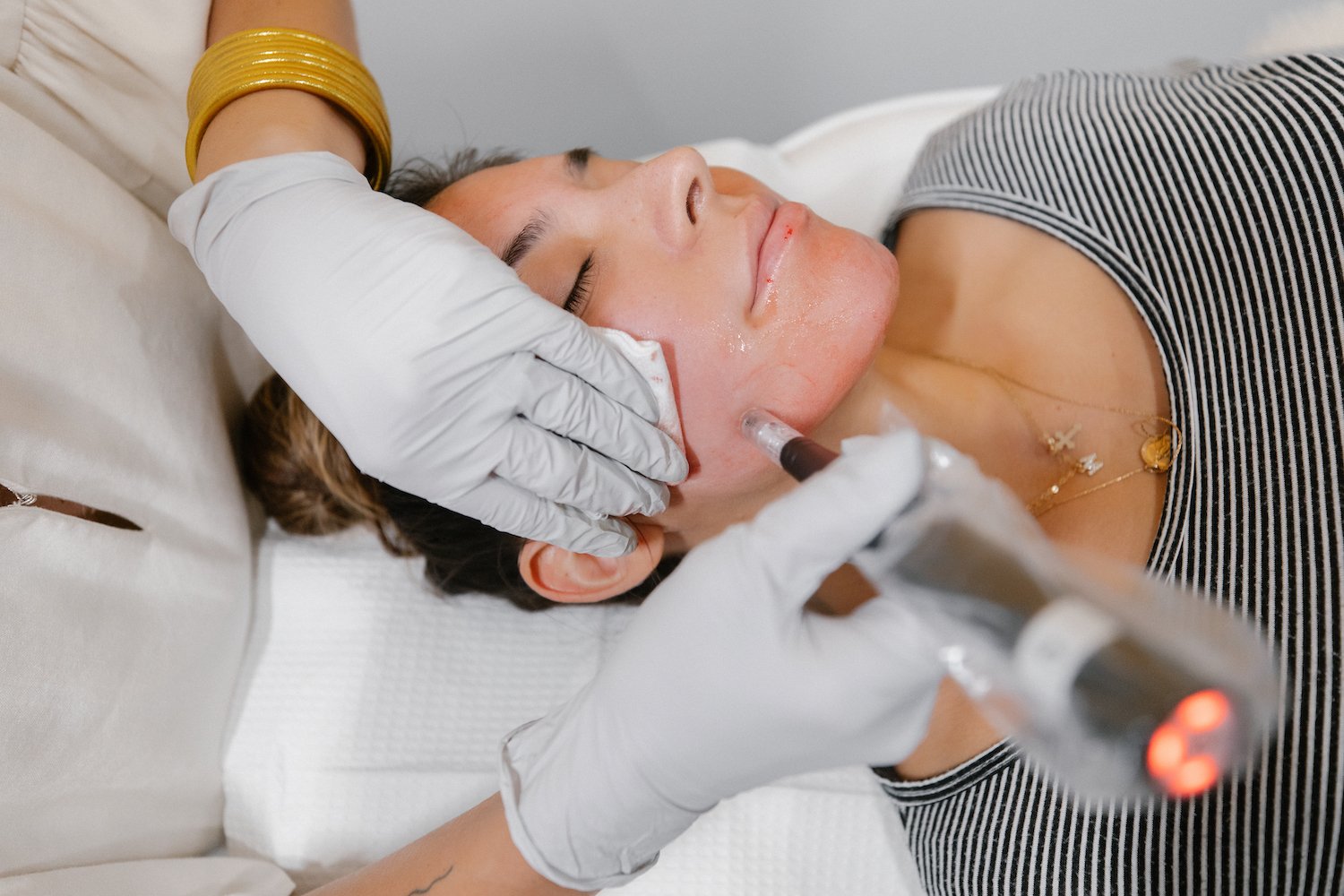 Skin needling is not new, but it is newly popular in the United States—specifically, San Diego. Needling the skin to stimulate new collagen has been used in Europe for at least two decades. Also called Collagen Induction Therapy, microneedling is based on the ability of the skin to repair itself. When in repair mode, the body's own collagen and elastin production is stimulated to tighten, lift and rejuvenate the skin, as well as reduce the appearance of fine lines and wrinkles, minimize pores, stretch marks, crepey skin, and scarring such as surgical and acne scars.
How Does Microneedling Work?
Percutaneous Induction Needling is a method of inducing thousands of controlled micro-injuries into the skin using a motorized device. This triggers the skin's natural repair process involving generation of growth factors, new collagen and elastin formation and therefore, a thicker dermis with the appearance of softer wrinkles and healthier skin. This process causes much less damage to the epidermis than dermal rolling, lasers or any other ablative treatment. Thus, protecting the skin's cell growth and making for quicker healing and higher rates of success, which is why we love it in our La Jolla office.

Depending on the depth of the needle penetration, our microneedling treatment can offer skin rejuvenation levels from the simple enhancement of product absorption to the clinical treatment of scars and wrinkles. Our Collagen P.I.N. is the only microneedling device on the market that holds a 36-needle cartridge. This is triple what other devices on the market provide. This feature allows for a larger skin repair response, and a more even bed of collagen, therefore providing much greater and improved results.
Who can be treated with microneedling and on what areas of the body?
In general, all skin types can safely be treated with the Collagen P.I.N. This is a large advantage to treatment with microneedling compared to laser ablative treatments that can result in permanent discoloration in darker, more ethnic skin types. Most areas of the body can be treated including:
Face
Neck
Decolletage
Hands
Arms + legs
Abdomen + back
How can I enhance the results of my microneedling?
Check out our Add-On Boosters for microneedling here. 
How many microneedling treatments will I need?
Some people require a single treatment, once per year, to achieve great results. However, to get the most out of microneedling, a series of 3 treatments spaced 4-6 weeks apart depending upon your area of correction or concern may be recommended. Those with deep wrinkles, advanced sun damage, stretch marks, or any type of scars usually require 6 or more treatments to achieve the desired results.

Maintenance treatments are required to prolong the benefits of microneedling. Typically, for those age 20-30 years young, 2 to 3 treatments per year. Those 30-60s, 3 to 4 treatments per year.
How deep does the Collagen P.I.N. go?
Penetration ranges begin at cosmetic depth of 0.5mm to clinical treatment depths up to 3.0mm. No other device on the market goes to this level, which is necessary for acne scarring and body scars. Light penetration, which creates thousands of superficial micro-channels, allows the introduction of targeted treatment serums, such as Vitamin C, to reach beneath the surface where they can be most effective. Vitamin C is critical to collagen formation and also targets the cells that produce pigment in the skin. Combining vitamin C with micro-needling can therefore optimize improvement in texture and pore tightening but also lightening and brightening. Penetration in the mid-range zone can have a positive impact on superficial sun damage and light scarring. Deeper levels are reserved for treating acne scars, stretch marks. and for tightening skin and softening fine lines around the lips and eyes.
Does microneedling hurt?
Prior to the treatment, a topical numbing agent will be applied to the treatment areas. Most people report feeling very little to no pain at all. The overwhelming opinion from our clients is that it's actually a relaxing experience. However, we do have Pro-Nox (aka 'giggle gas') for those feeling more anxious or concerned about the discomfort.
How long will it take for me to see results from my microneedling treatment?
Many people see and feel results in their skin after just one treatment. Individual results vary depending on skin health, but results are cumulative, so your skin gets better each time. Most commonly, positive changes are reported as soon as 1-2 weeks after the first treatment. However, a change, often referred to as a new 'glow', is normally noted within a few days after healing. Maximal collagen induction for skin tightening and rejuvenation is usually observed by three to six months. Pairing microneedling with an active, potent and clean PFAM skincare lineup can truly take your results to the next level.
How long does microneedling last?
New collagen and elastin formation has been documented to still be present as much as one year later from just a single P.I.N. treatment. However, as our skin ages our collagen production naturally slows down. Your overall results will last longer when using an at home skin care regimen that includes a daily retinol product.
What will I look like after my microneedling treatment?
Immediately after the treatment your skin will look moderately pink/red and feel warm and a bit sensitive, such as after a sunburn. Some mild swelling may occur usually on the second day, depending on the level of treatment. "Bronzing" refers to areas where there was tiny pinpoint bleeding during the treatment that darken, dry, and then slough off. Bronzing can be experienced day 2-4. Some light peeling and flaking of the skin can also occur on these days. Typically, by the fourth day, skin will be returning to normal color and your regular skin care lineup and makeup can be resumed on day 5.
What To Do After Microneedling: Post-Treatment Care
We highly recommend the post-treatment skincare lineup. This set of products is 100% paraben free, dimethicone free, gluten free and vegan. This simple and clean lineup of products post micro-needling will help to expedite the healing process and minimize the risk of adverse events such as infection, granulomas and allergic reactions. Included in the lineup is an organic titanium dioxide physical sunscreen that works wonderfully to help minimize redness and can act as a light foundation during the healing phase and beyond. Safe to layer on immediately post treatment, our Perfect Powders not only add additional coverage, but also easy on-the-go SPF protection.

To learn more about what to do before and after your treatment see our Microneedling Pre and Post Treatment Information.
Can I wear makeup after my treatment?
Due to the thousands of micro-channels that are formed during the treatment, the skin is extremely vulnerable to application of topical cleansers, creams, serums and makeup following the P.I.N. A post treatment skin care lineup is recommended for days 1-4 following the treatment to help expedite the healing process and minimize the risk of adverse events such as infection, granulomas and allergic reactions. Mineral based makeup can be used while healing. Excessive sun exposure should be avoided for the first 72 hours, and you should refrain from any sweaty exercise for the first 24 hours following the treatment.
How much does the Collagen P.I.N. microneedling treatment cost?
Collagen P.I.N. treatments can be purchased as a single treatment or as a package of 3 treatments. Packages are valid for use 1 year from the date of purchase. First time microneedling clients will receive our Post Care Lineup complimentary.  Perfect Vault members can use their 10% off service discount on single sessions (series/packages excluded).
Single treatment microneedling face $450 (Neck or chest add-on - $50/each)
Series of 3 P.I.N. treatments with Post Care Lineup included  $1200 (Savings of $150) 
If you have any questions about this PFAM favorite treatment and how it fits into your skincare goals, schedule a complimentary consultation to speak with one of our amazing Providers and create your own personalized PFAM Plan!
Coming in for a treatment? Not ready to book yet? See Microneedling Pre and Post Treatment Information.